HR Marketing Specialist/ Employer Branding Specialist
ANPHABE ,

Ho Chi Minh - Vietnam

1000

Competitive

Posted: 25 Dec 2019
hZWXnZ1gmGmdmZmExaBkb-GkoGOYcFLJpMWoq4DHo5ifmatXc6xsl2lrUr98qKellJ--naXGjIHTmoCR3N7Q0MXIo8nYmdCnhp7VnZygU5vbn8mmz6WeiHPXb2lqoFeVo6SlroKolLGZn5uFc6lsa21V0pSoxZ2qhnOVapOf39SempyIzp_DmM3HhJ7XoGZviGSYaZxvUqG14Q..
Job Description
Working directly and providing effective Employer Branding solutions to clients in the top of Vietnam Best Place To Work (Unilever, Abbott, BAT, HSBC, Amway, etc.)
1. Execution:
Creative Campaign: From Ideas to Executions (Creative & Ad-hoc Contents, videos, workshop, events, etc) to increase brand awareness, interest, the application rate of Clients towards talent community
Manage the effective delivery of marketing programs, customer campaigns and/or supporting new product/ service launch to build strong brand awareness and customer engagement.
Provide assistant to Account team to hold main projects (Briefing and Rebriefing, Project Planning & Management)
Collaborate and provide timely communication with relevant agencies, vendors & stakeholders to ensure project progress and product quality
2. Planning:
Provide Integrated Employer Brand Building Plan (From Insight to Activation) to promote Employer Brand Image targeted the right Talent Pool through multichannel
Help develop and optimize Brand Communication Campaign, especially on Digital platform, to drive candidate attraction and engagement, through social media, events, and other channels
3. Insight & Measurement:
Access market data and provide insights to directly adjust the employer branding strategy.
Executive Ad-hoc researches to find Market Trends/ Insights
*** Perks & Benefit ***
Learning and gaining experience from cooperating with companies in the Top Vietnam Best Places To Work
Friendly and open working environment, opportunities to work with many different departments
Support for professional training costs depending on ability and work requirements

Assistance with the cost of taxis, customer meetings, and phone charges
Each commission is awarded according to the level of dedication
Health insurance, social insurance, annual health checks
Salary increase at least once a year, increase depending on the performance
*** Apply to: hr@anphabe.com

Job Requirements
Bachelor degree or above
At least 2-3 years relevant experience in Marketing, Employer Branding, PR/Communications…
Open in HR Marketing & Employer Branding Field
Fluency in English, both spoken and written
Innovative, Creative, results-oriented, problem-solving oriented
Can do multi-task and work well under high pressure
Good communication & teamwork
Additional Information
Job Level

Experienced (Non-manager)

Job Type

Full-Time Permanent
About ANPHABE
Being the pioneer consultant in providing Employer Branding and Happy Workforce Solution, Anphabe is currently the strategic partner of many leading enterprises in Vietnam & Region.
Anphabe.com is now Vietnam's largest career community for management-level professionals which connects 600,000+ members with valuable contacts, useful knowledge, and worthy opportunities
Anphabe's operation & expertise are backed up by Recruit Holdings group – Japan & worldwide leading HR Solution Provider, which comprises of 162 subsidiaries with 484 representative offices and 32.000 employees all over the world.
ANPHABE.COM doesn't charge membership fee. High-level professionals can register membership easily at www.Anphabe.com.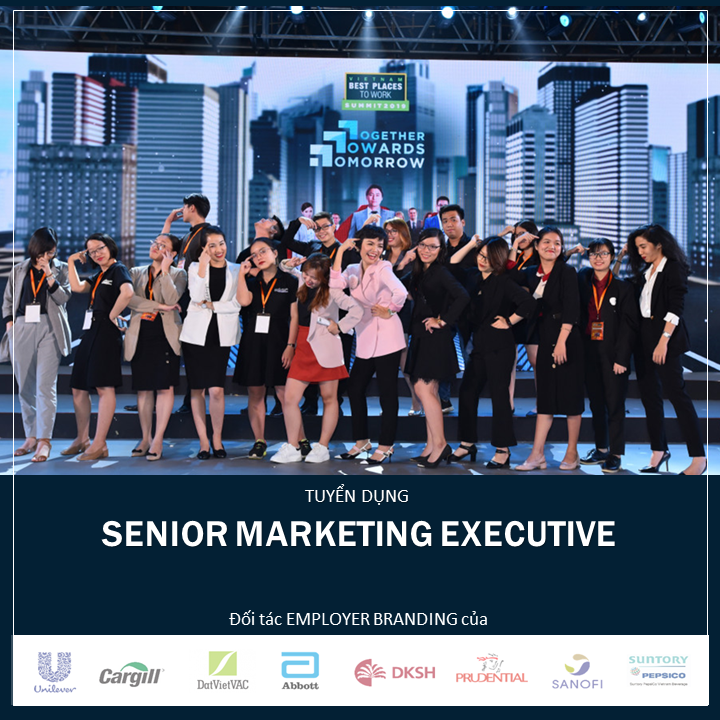 HR Marketing Specialist/ Employer Branding...
hZWXnZ1gmGmdmZmExaBkb-GkoGOYcFLJpMWoq4DHo5ifmatXc6xsl2lrUr98qKellJ--naXGjIHTmoCR3N7Q0MXIo8nYmdCnhp7VnZygU5vbn8mmz6WeiHPXb2lqoFeVo6SlroKolLGZn5uFc6lsa21V0pSoxZ2qhnOVapOf39SempyIzp_DmM3HhJ7XoGZviGSYaZxvUqG14Q..